USER-FRIENDLY HANDLING OF WHEELS IN TALL TYRE RACKS
Wheel Trolley Tower Lift is a compact and space-saving truck for the ergonomically correct handling of wheels in extra-tall tyre racks – at heights of up to 6 metres.
Tower Lift has a customised tool at its front which is compatible with our popular Wheel Trolley. The actual handling into and out of the tyre racks is carried out by the use of Wheel Trolleys. The job of retrieving and inserting wheels from and into tyre racks can take place at an efficient pace while allowance is still made for ergonomic considerations.
DIFFERENT MODELS FOR DIFFERENT NEEDS
Wheel Trolley Tower Lift 2.1 exist in different models.
The models differs in battery type and lifting tool – where it is possible to choose between a standard battery and a Lithium battery. The lifting tool comes in a Standard Tool and an Off Road Tool.
Watch a short animation video here featuring the Wheel Trolley Tower Lift:
FEATURES:
Entry and exit on both sides
Hydraulic function of front tilting tool
Equipped with reverse camera and information display
Three set speeds
Wheels are handled directly on Wheel Trolleys
Reduces the needed width for walkways between racks to 1.5 metres
Efficient and ergonomic handling of wheels
Available both with a standard battery and with Lithium Heat battery package for extra fast charging and 3 years warranty
FEATURES BY USING AF WHEEL TROLLEY TOWER LIFT:
Minimal handling of tires and wheels during loading onto and off tire racks
Makes it possible to utilize storage facility optimally
For ergonomic handling of tires and wheels
DETAILS:
Lifting height: 6.0 meters
Lifting capacity: Standard Tool: 120 kg / 265 lbs / Off Road Tool: 180 kg / 396 lbs
Battery capacity: approximately 200 cycles of operation
Battery charging time: Standard: 10 hrs. / Lithium: 3 hrs.
Color: Dark grey RAL 7016
Driving speed with the basket at low position: 0.8 meters/second
Driving speed with the basket at high position: 0.2 meters/second
Raising time: 0.2 meters/second
To open our Wheel Trolley Tower Lift catalogue, please CLICK HERE!
OPTIONAL EQUIPMENT
LITHIUM BATTERY
Wheel Trolley Tower Lift is available in a version with Lithium battery, by which you can obtain the advantages of this battery type:
Maintenance-free – and no need for replenishing battery water
Charging time of just 3 hours – against 10 hours for a standard battery type
3 years warranty
Integrated heat system which makes it possible to charge the battery at a room temperature below 0 degrees Celsius
No need for "massage" of the battery during periods where it is not used
Possible to purchase an extra lithium battery package and thereby avoid charging time
It is possiblie to replace a standard battery with a Lithium battery package on an existing Tower Lift.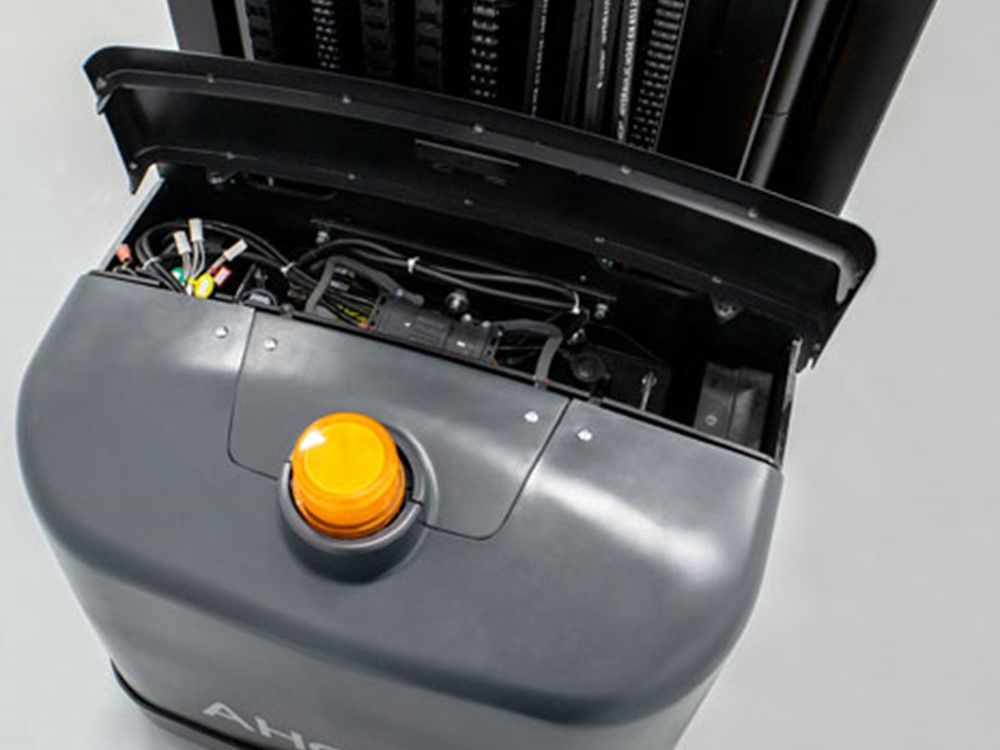 OFF ROAD LIFTING TOOL
For the handling og large wheels in tyre racks the lifting tool for the Wheel Trolley Tower Lift is made in a version that fits the Wheel Trolley Off Road.
Wheel Trolley Off Road measures ø700 mm and has a maximum load of 180 kg / 396 lbs -  and can thereby be used for van- and 4X4 wheels. The Off Road lifting tool can be retrofitted on an existing Wheel Trolley Tower Lift instead of the lifting tool for Wheel Trolleys in standard size.
The Off Road lifting tool also fits the standard Wheel Trolley