WHEEL PALLET RECYCLED
The clever Wheel Pallet reimagined and recreated in a recycled version.
The desire is still to make transporting and storing wheels easy, ergonomic and logical.
But with the Wheel Pallet Recycled you can now do it in a more sustainable way.
The top of the Wheel Pallet Recycled is made of 100% recycled excess material from the car industry and recycled parts from damaged cars.
Wheel Pallet by AHCON is, in all its simplicity, a plastic pallet with wheels mounted underneath. It could be called the square version of the Wheel Trolley®.
The Wheel Pallet Recycled is perfectly suited to mobile storage of various forms of goods, including tires.
In large warehouses and storage facilities for tires, Wheel Pallets are used for tire storage. Thanks to some special grooves in the bottom of the pallets, they can be suspended up on specially designed tire shelves. See pictures below.
Wheel Pallets have the following uses and advantages:
Can be used for storage of many types of goods
Makes it fast and easy to move stored items
Can be used for storing tires on tire shelves
The Wheel Pallet Recycled is made of tough fiber plastic and is equipped with 4 steerable wheels, of which 2 wheels have a wheel brake.
DETAILS & FEATURES
Wheel Pallets are stackable
Dimensions: 600 x 800 mm/ 31.5 X 23.6 inch
Load capacity up to 250 kg/ 552 lbs

To open our catalogue with Wheel Trolley Products, please CLICK HERE!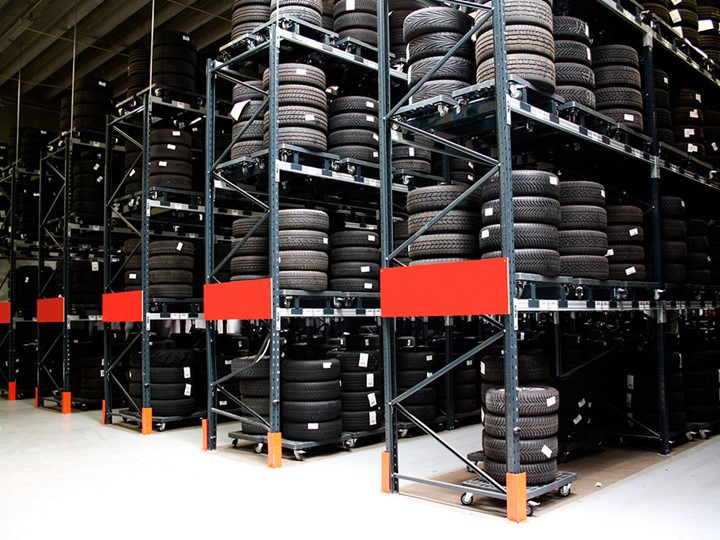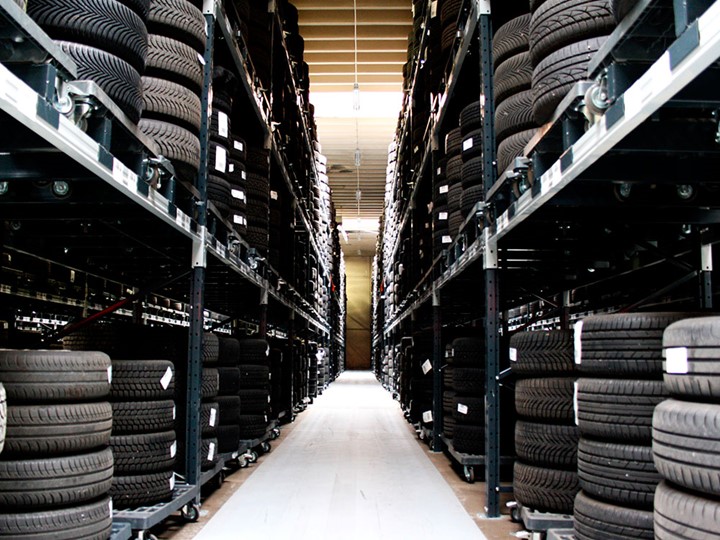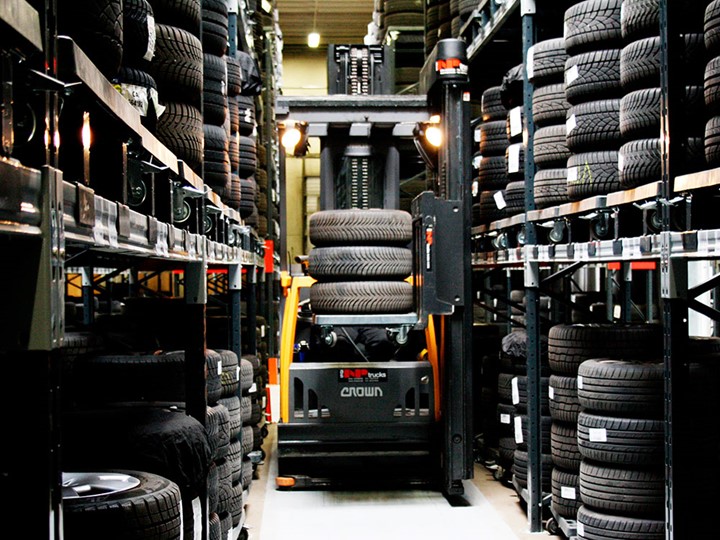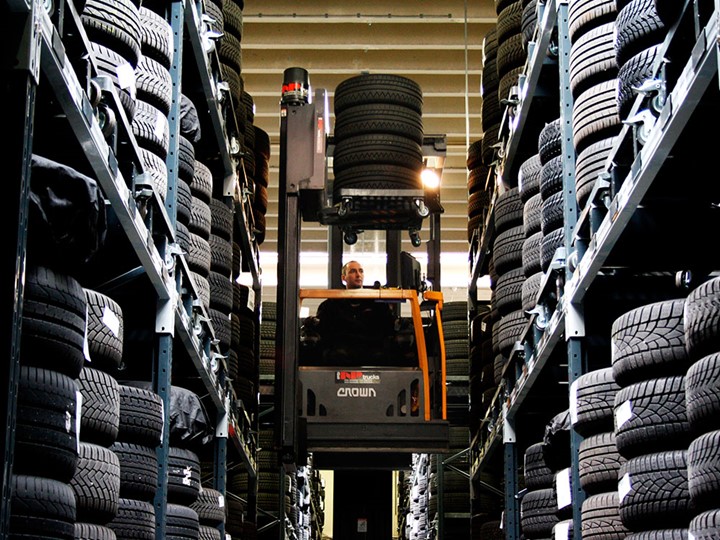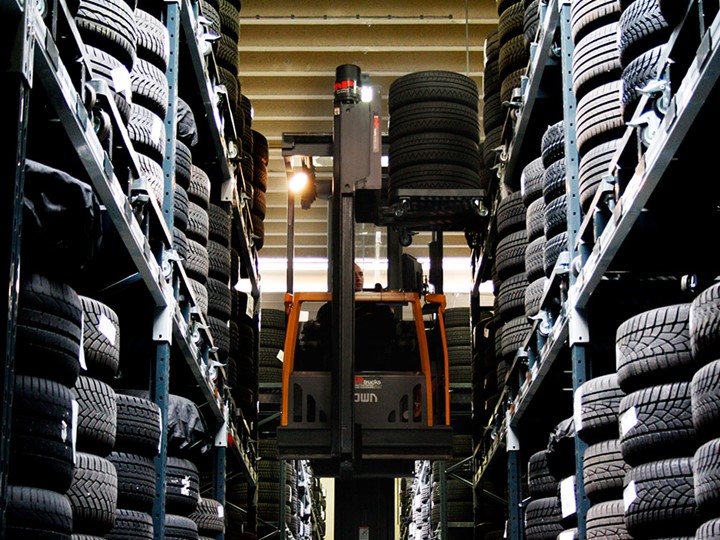 STORAGE OF WHEELS
Wheel Pallets are ideal for storing customer wheels on tire shelves in storage facilities for tires and in workshops. 
Thanks to the special recesses in the bottom of the pallet, they can be placed onto tire shelves, where they are lifted onto metal rails using a forklift. 
Using this type of tire shelf, the height of a room may be maximized and the capacity of tire storage can be optimized.
Click through the images in the slideshow and see how the pallets with wheels on are suspended on the shelves, and how they are lifted into place with a forklift.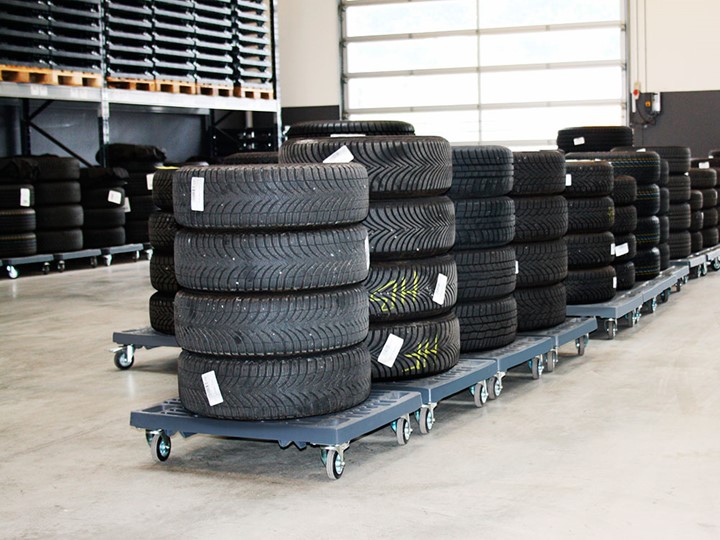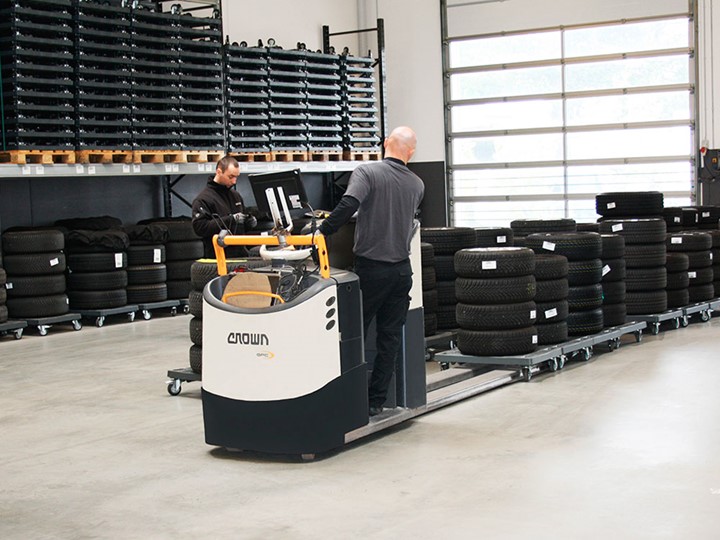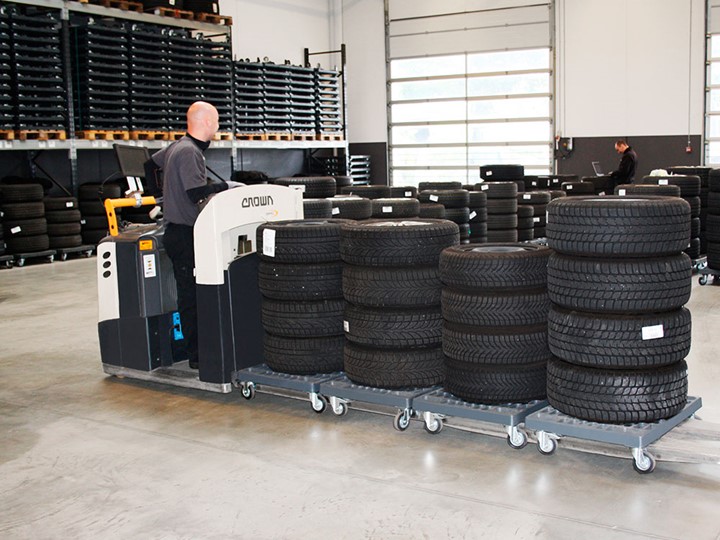 TRANSPORT IN THE WAREHOUSE & TRANSPORT TO CUSTOMERS

Wheel Pallets are perfectly shaped when it comes to transporting both internally in tire storage facilities and externally to customers. 
The Wheel Pallets' shape means that, in the warehouse, they can easily be transported in clusters. This possibility of handling multiple Wheel Pallets at a time with wheels on is an important element of an efficient workflow when many sets of wheels are handled every day
The square shape also makes the Wheel Pallets fit easily into the trucks used to transport the wheels out to customers from the tire storage facility
Click through the images in the slideshow and see how the shape of Wheel Pallets makes the handling of wheels extra effective.